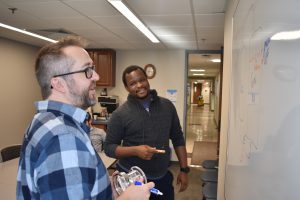 Jesse Thompson, a UK CAER Research Program Manager and adjunct faculty member in the UK Department of Chemistry, and Ayo Omosebi, a UK CAER Senior Research Engineer, will be developing a system that may offer a viable option to reduce greenhouse gas emissions from fossil fuel-fired power plants. James Landon, a UK CAER Principal Research Engineer, and Kunlei Liu, UK CAER Associate Director of Research, are also part of the project team.
"The successful development of the proposed technologies will have a multitude of benefits to the CO2 capture community and the public," said Dr. Thompson. "These techniques will help the conversion of CO2 to create valuable products. This will help those in the utility and industrial sectors to partially offset the cost for capturing carbon dioxide and, hopefully, extend the life of fossil fuel-fired power plants that continue to create reliable electricity for the nation."
The project is entitled "An Intensified Electro-Catalytic Process for Production of Formic Acid from Power Plant CO2 Emissions" and was funded by DOE's Office of Fossil Energy. Dr. Thompson emphasizes that the result of the project would have two major benefits: 1) reducing the cost of capture CO2 from a utility coal-fired units; and 2) production of a valuable chemical feedstock, formic acid, at a lower cost than is currently available, contributing to potential advances in the fuel cell, hydrogen storage, and chemical manufacturing markets.
Dr. Thompson noted that any number of useful products can be potentially made from CO2. However, the major question always remains: Does it make economic sense? That's what led the UK CAER research team to formic acid development. Formic acid was identified as the best potential chemical feedstock with potential for widespread use in industrial chemical production and chemical energy storage markets.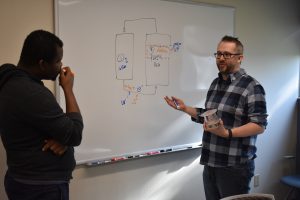 This project will develop and test a novel electro-catalytic method for the production of formic acid from coal-derived CO2 feedstocks, as an alternative to the current practice of production from methanol. Industrial use of formic acid as a C1 carbon feedstock is currently limited due to its current relatively high cost. However, formic acid is the most thermodynamically similar C1 feedstock to CO2, providing an opportunity to significantly improve the economics of its production with an electro-catalytic process from CO2 as the starting material.
South Korea's Ulsan National Institute of Science and Technology is a project partner on this grant.