Andrea Howard, a staff support professional for the UK Center for Applied Energy Research's Materials Technologies group, was named the 2019 recipient of the Marybeth McAlister Memorial Outstanding Staff Award.
Howard was recognized for being a "positive, welcoming" presence at the Center every day while constantly stepping up to support colleagues.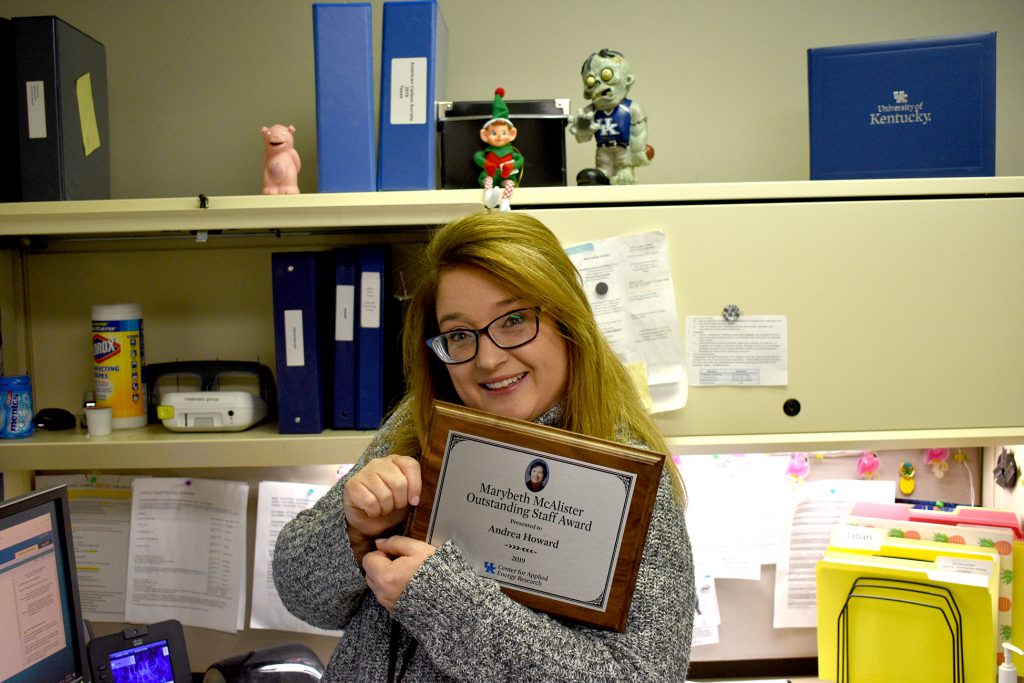 "Andrea served as the registration leader for b oth the Center's World of Coal Ash (WOCA) conference and Carbon 2019," said one of her nominators. "Between the two conferences, Andrea helped lead a team that welcomed more than 1,500 people to CAER-led conferences, in addition to serving on the organizing committee for Carbon 2019.  Andrea managed to do this with a trademark smile on her face and a commitment to serving others. She represented the Center in a first-class manner, helping to do anything she could to ensure our guests experienced Kentucky hospitality."
The award program was named in honor of Marybeth McAlister, long-time Director of Communications for UK CAER.  Those wanting to financially support the McAlister Staff Award Fund can do so on the following website: https://uky.networkforgood.com/causes/6151-marybeth-mcalister-staff-award-fund.