UK and Minova Partner on New Concrete for Damaged Structures
UK and Minova Partner on New Concrete for Damaged Structures
The University of Kentucky Center for Applied Energy Research and Minova North America developed a new fast-drying, ultra-quick setting concrete product. Trademarked as Tekcrete Fast and Tekcrete Fast M, the product will be used by the mining industry and civil engineers to immediately stabilize damaged infrastructure.
TEKCRETE FAST + TEKCRETE FAST M
A quick setting concrete designed to save lives.
Imagine a tragedy where an act of terror damages a building, runway, tunnel, bridge or dam.
Now imagine a quick-curing concrete that can be sprayed to reinforce the structure almost immediately, before it fails catastrophically, providing safety for rescue workers, who risk their lives minutes after disasters hit.
A technology developed at the University of Kentucky Center for Applied Energy Research (CAER) and Minova North America headquartered in Georgetown, Ky., does just that. The products, called Tekcrete Fast and Tekcrete Fast M (with a specific application for mining safety), have been licensed by Minova, and can be used by engineers to immediately stabilize damaged structures. It is a high-strength, quick-setting concrete that achieves set and structural strength in minutes. Minova has licensed the technology for application in the underground mining, civil and tunneling industries as well.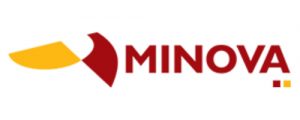 Lending our intellectual capital and scientific expertise, in partnership with industry leaders such as Minova, is a vital element of the Kentucky Promise. This collaboration yields innovations that advance Kentucky's economy and impacts critical national policy initiatives.
ELI CAPILOUTO
PRESIDENT, UNIVERSITY OF KENTUCKY
SUPPORTING INDUSTRY
Partnering with Minova North America
Minova North America is a part of Minova International, a company that provides mechanical, structural and chemical-based solutions for underground mining, infrastructure, tunneling and civil engineering applications.
"Collaborations such as this are important for translating technologies from the laboratory bench to the marketplace," said Waverly McFarland, vice president marketing of Minova North America.
The research and joint patent leading to the Minova license began in 2009 when CAER partnered with Minova on a project for the U. S. Department of Homeland Security, Science & Technology Directorate (DHS). This ongoing development and deployment project for the structural stabilization of shock-damaged structures is managed by the National Institute for Hometown Security (NIHS) in Somerset, Ky.
"It's vitally important that the discoveries made in the lab find their way out of the test tube environment and into the everyday environment in which we live," said Congressman Hal Rogers, who helped to secure funding for the project initially. "When this type of research is applied, we can strengthen our homeland security, improve our protection from terrorist threats and add to our nation's resiliency when natural disasters strike."
Why would CAER, a center that principally performs energy research, develop a national security project? According to associate director and principal investigator Tom Robl, "This project takes advantage of expertise developed in nontraditional (i.e. non-Portland) cement systems at the UK CAER stemming from work with coal combustion byproducts. Also critical has been a long-standing collaboration between researchers at Minova and CAER. These two factors allowed us to work together to develop solutions for these problems that are unique."
And the collaborations aren't just happening in Kentucky.
"A lot of test work we did took place in Scotland with the Concrete Technology Unit at the University of Dundee," said Robl. "They were very instrumental in helping and guiding us with some of the research testing and project formulations."
CAER also has the largest program in the United States looking at the use of coal combustion byproducts.
"The program is really important to the state of Kentucky because there is not a federal program that supports the use of combustion byproducts," said Rodney Andrews, director of CAER. "This particular project, using combustion byproducts to develop this sort of cement, is a great example of how we're able to work with industries to develop things that meet their needs but at the same time are reducing environmental hazards."
"These products are unique, not only in America, but I believe in the world, too," said Peter Mills, technology leader for Minova North America. "So wherever you could see a need for structural support effectively immediately, these products will fit the bill."
15 min.
TekCrete Fast products are capable of achieving structural strength in as little as 15 minutes, an unprecedented milestone.