Materials Technologies
Developing innovative materials to improve strength, efficiency, and sustainability.
Carbon Fiber Research
UK CAER operates one of the only production lines for spinning experimental fibers and precursor carbon fiber in the United States. Our team is uniquely positioned to partner with industry on the development of new fibers and new carbon fiber products.
Carbon Nanotubes
UK CAER has been involved with multi-walled carbon nanotube (MWCNT) synthesis and research since the mid 1990s. Our research has explored many of the desirable properties that MWCNTs exhibit, including strength, stiffness, electrical conductivity, and thermal conductivity.
Polymer Processing
For nearly 20 years, UK CAER has been involved in polymer processing research. Working with both thermosets and thermoplastics, research in this area has focused on mixing fillers into the polymers to improve their mechanical and electrical properties.
Cement and Concrete Research
With a vast array of testing equipment and decades of scientific expertise at our disposal, UK CAER's cementitious materials scientists explore methods for improving the compositions of cement and concrete samples through various characterization and testing methods.
Coal Combustion By-Products
We're developing novel technologies and processes for transforming fly ash from coal-fired power plants into renewable products and materials.
Active Projects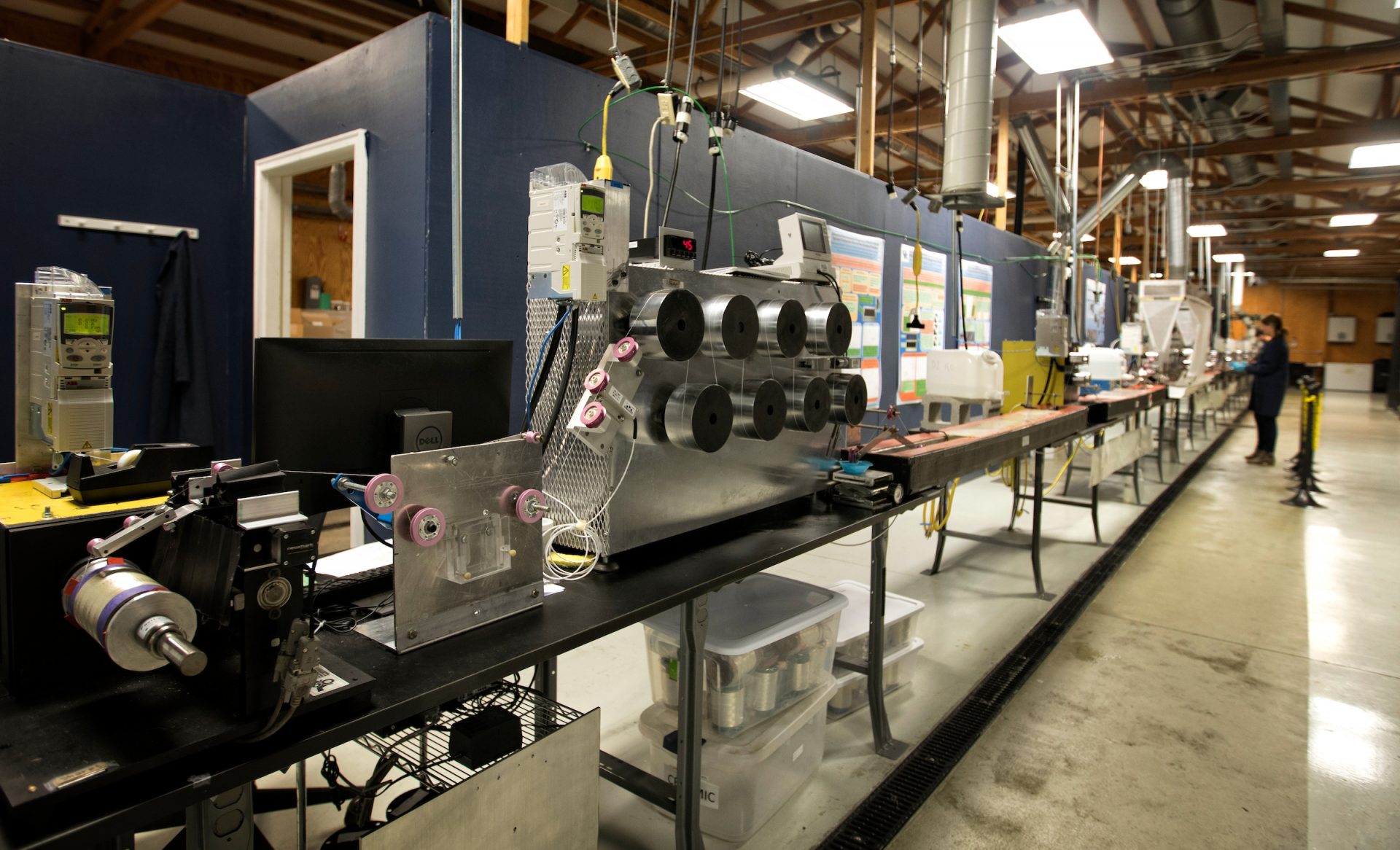 Carbon Fiber Research
Improving Carbon Fiber Technology
Carbon fiber is the material of the future — a next-generation version of aluminum. Its properties are often considered the holy grail in manufacturing. Carbon fiber is a low-weight, high-strength, corrosion resistant material that can conduct electricity. The University of Kentucky Center for Applied Energy Research (UK CAER) is home to the largest carbon fiber spin line at any institution in North America. Over the past decade, our researchers have built a solution spinning line that draws visitors, collaborators, and research partners from across the Commonwealth, the nation and the world. And they are here for one thing: to lean on UK CAER's carbon fiber research team as they seek answers to some of the toughest questions facing the industry.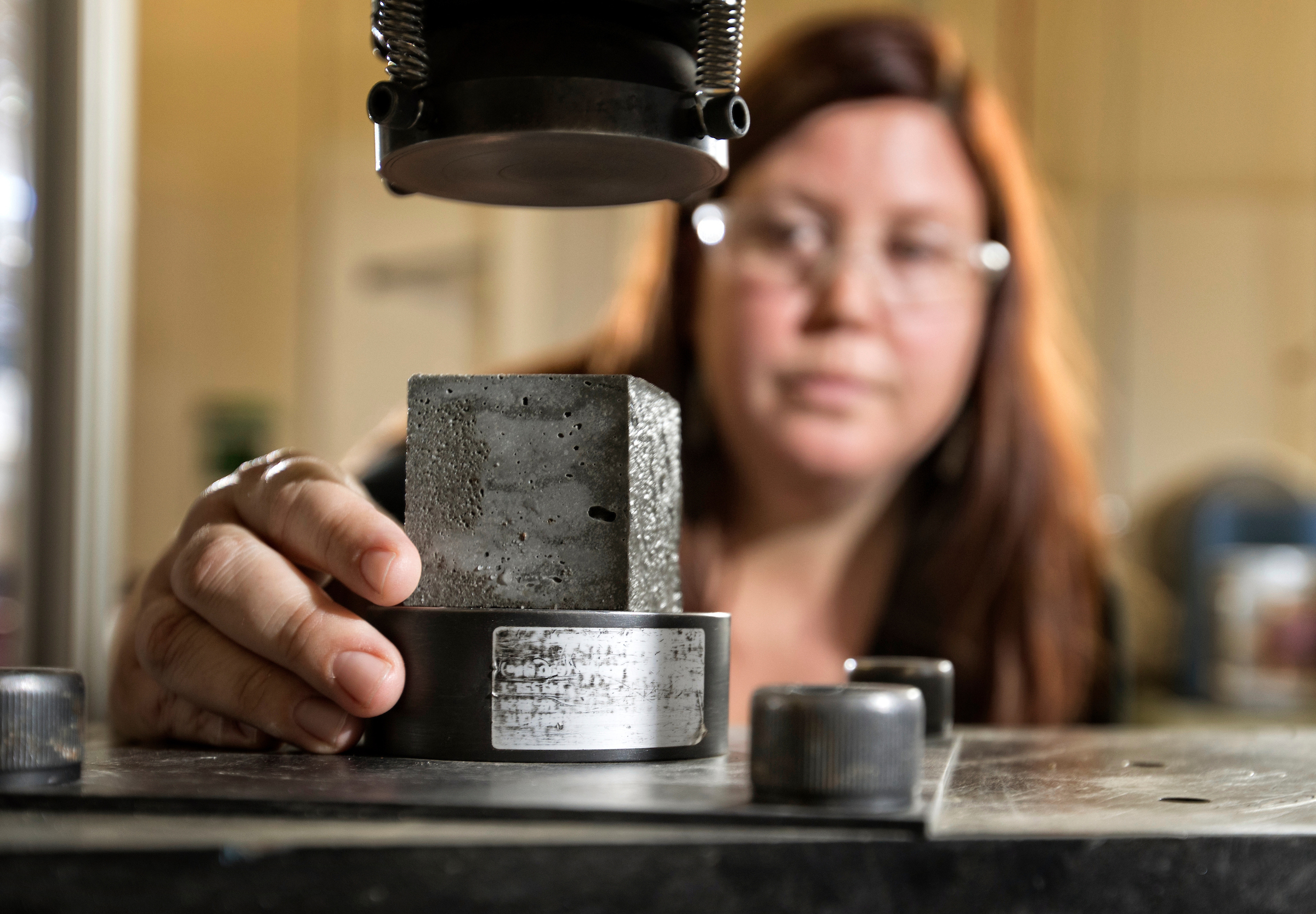 Cement and Concrete
Using Recycled Materials to Develop an Energy-Efficient Alternative to Portland Cement
Portland cement is the most common type of cement in general use around the world as a basic ingredient of concrete, mortar, stucco, and non-specialty grout. The low cost and widespread availability of the limestone, shales, and other naturally-occurring materials used in Portland cement make it one of the lowest-cost materials widely used over the last century. However, Portland cement also presents serious health and environmental concerns. A caustic material, Portland cement can cause chemical burns. The powder can cause irritation or, with severe exposure, lung cancer, and can contain some hazardous components, such as crystalline silica and hexavalent chromium. Environmental concerns are the high energy consumption required to mine, manufacture, and transport the cement, and the related air pollution, including the release of greenhouse gases. At UK CAER, our researchers are addressing this challenge by exploring methods for using fly-ash, a by-product of coal combustion, as a more energy efficient alternative to Portland cement.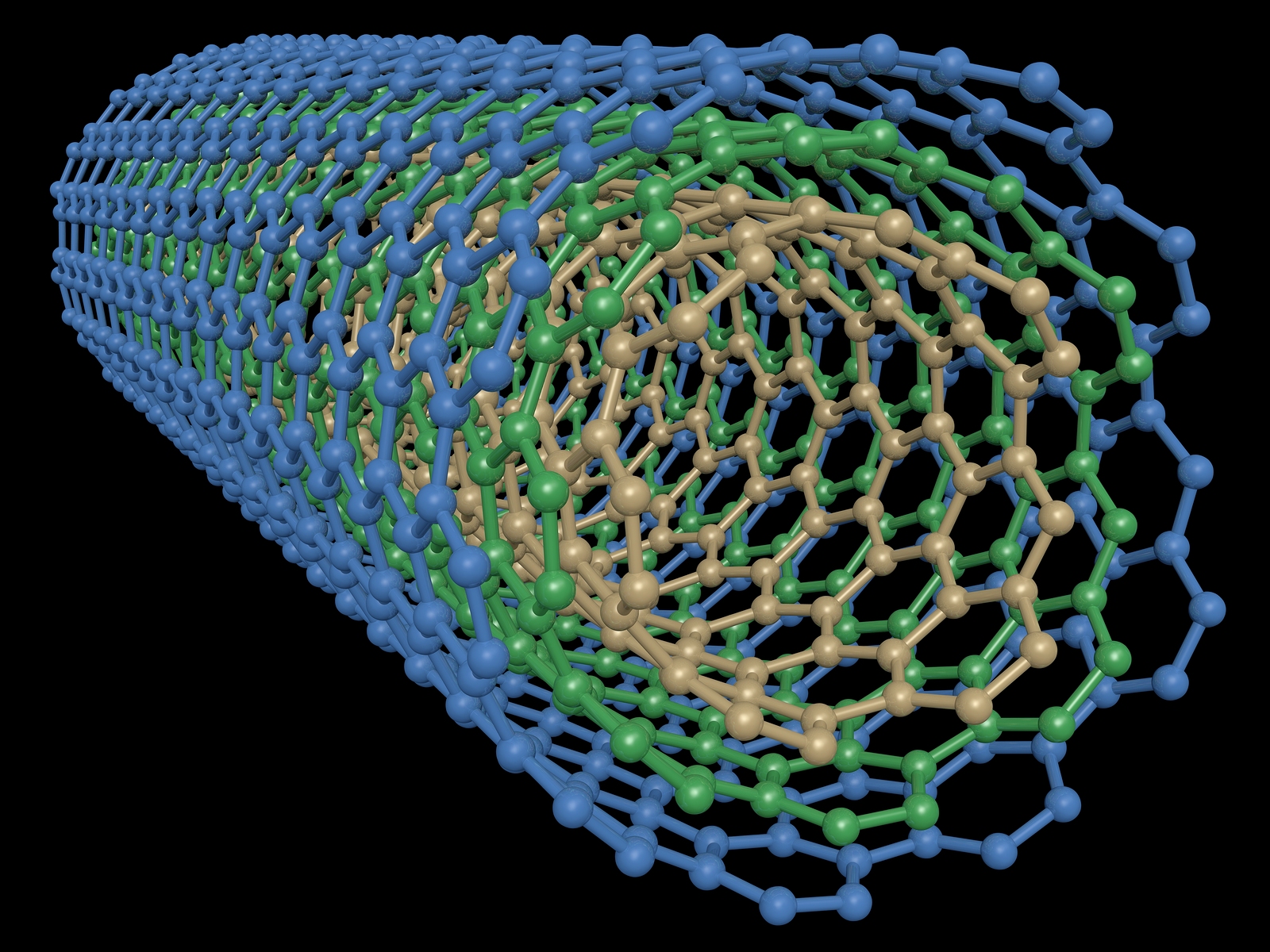 Carbon Nanotubes
Exploring the Potential of Carbon Nanotube Technology
When carbon nanotubes (CNT) were first discovered in the early 1990s, it sparked a revolution in materials science. These incredible structures have an array of fascinating electronic, magnetic and mechanical properties. CNT are at least 100 times stronger than steel, but only one-sixth as heavy, so nanotube fibers could strengthen almost any material. Nanotubes can conduct heat and electricity far better than copper. CNT are already being used in polymers to control or enhance conductivity and are added to anti-static packaging. For nearly two decades, UK CAER scientists have been involved in multi-walled carbon nanotube (MWCNT) synthesis and research. During that time, the carbon materials group researched many of the desirable properties that MWCNTs exhibit, including strength, stiffness, electrical conductivity, and thermal conductivity. Additionally, the group has worked extensively to make multi-walled carbon nanotubes more accessible by driving down their cost through continuous production technology.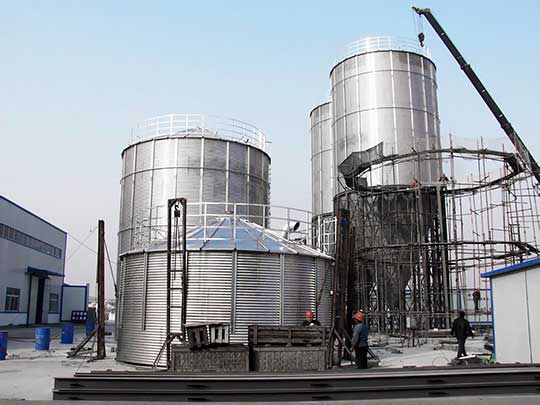 Coal Combustion By-Products
Establishing Quality Assessment Guidelines for Coal-Combustion By-Products
The closing of  hundreds of coal-fired power plants across the United States, compounded with the increased use of additives for acid gas and mercury control, is resulting in a new economic dynamic for the high-quality fly ash used in cement and concrete applications. As the number of sources for high quality coal ash continue to dwindle, many are concerned over future supply constraints. UK CAER scientists and engineers serve as global thought leaders, developing industrial guidelines for the proper use and storage of fly ash as a raw material for cement and concrete products.
Research Team
Matt Weisenberger

Associate Director

Tom Robl

Associate Director

Jordan Burgess

Research Engineer Assistant

John Craddock

Research Scientist Principle

Tristana Duvallet

Research Engineer Senior

David Eaton

Program Manager

Nik Hochstrasser

Research Engineer Senior

Bob Jewell

Research Program Manager

Ashley Morris

Principal Research Engineer

Anne Oberlink

Research Scientist Senior

John Wiseman

Engineer Technician Associate
Featured Publications
T. Robl, A. Oberlink, R. Jones, "Coal Combustion Products (CCP's) Characteristics, Utilization and Beneficiation", Woodhead Publishing, 1st Edition, 2017.
T. Y. Duvallet, L. Frouin, T. L. Robl, A. E. Oberlink, and R. B. Jewell, "Effect of Particle Packing and Fly Ash on Performance of Ordinary Portland Cement/Anhydrite-Activated Ground- Granulated Blast-Furnace Slag", ACI Materials Journal, 2017, Vol. 114, Issue 4, 653-660.
T. Duvallet, Y. Zhou, K. R. Henke, T. L. Robl, R. Andrews, "Effects of ferrite concentration on synthesis, hydration and mechanical properties of alite-calcium sulfoaluminate-ferrite cements", Journal of Sustainable Cement-Based Materials, 2017, Vol. 6, Issue 2, 85-110.
P. Mills, T. Robl, R. Rathbone, R. Jewell, "Cementitious Compositions", U.S. Patent Number 9,284,226 B2, issued on 03/15/2016.
R. B. Jewell, K. C. Mahboub, T. L. Robl, A. C. Bathke, "Interfacial Bond between Reinforcing Fibers and Calcium Sulfoaluminate Cements: Fiber Pullout Characteristics" ACI Materials Journal, 2015, Vol. 112, No. 1, 39-48.
A. Oberlink, R. Jewell, "Rapidly Deployable Shotcrete System", Shotcrete Magazine, 2015, Vol. 17, N. 4.
T. Robl, T. Duvallet, R. Rathbone, Y. Zhou, "Hybrid cement clinker and cement made from that clinker", U.S. Patent Number 8,986,444, issued on 03/24/2015.
R. Hill, R. Rathbone, J. C. Hower, "Investigation of fly ash carbon by thermal analysis and optical microscopy", Cement and Concrete Research, 1998, 28(10), 1479-1488.