By Makiyah Owens, CAER Communication Intern and ISC Graduate
UK CAER's Cementitious Materials Group is known for sustainable innovation and has caught the attention of the U.S. Army Corps of Engineers. The Cementitious Materials Group's most recent partnership included cementitious-based technology for repairing, or hardening, concrete structures. We sat down with Mr. Bob Rathbone and Dr. Bob Jewell to learn more about this partnership and how it has improved tech for the military and environmental stewardship.
The foundation of the technology used within the partnership began in the early 2000s when Dr. Tom Robl secured funding from the National Institute of Hometown Security. This grant was funded by the Department of Homeland Security. From that project, CAER understood the benefits of calcium sulfoaluminate cement, otherwise known as CSA cement. This particular cement was vital for the  development of sprayable concrete that could be used to add immediate reinforcement to shock damaged structures.
Currently, CAER is funded on a project by the Department of Defense through the U.S. Army Corps' Engineer Research and Development Center (ERDC). Dr. Robert (Bob) Jewell, Associate Director at CAER, explained, "The ERDC identified a need for a cement-based technology to provide reinforcement to structures that would expedite troop movement in the field. This would be accomplished by the fast repair of damaged bridges and structures that would immediately put these civil structures into service."
The Cementitious Materials Group has been working collaboratively with the researchers at ERDC to develop cementitious-based technologies for repairing, or hardening, concrete structures. The cement utilized in the technology under development is applicable to low-energy, low-CO2 qualities that Jewell stated are "very much sought after by the construction materials industry as a whole."
Bob Rathbone, Research Scientist Principal at CAER, offered more insight on how this low-CO2 cement caught the attention of the military. Portland cement, the traditional cement for most concrete, is a very energy-intensive product because of its very high-temperature requirement. In addition, there is a high amount of limestone that must be mixed in. This process takes a lot of fuel to make and generates a high amount of CO2. "About one ton of CO2 is released per ton of cement," Rathbone stated. "Portland cement is easy to use, very reliable, relatively cheap so it gets used very heavily in making concrete," Rathbone explained that the advantage of CSA cement, which is used in the concrete technology under development is that it's much more sustainable. "You don't have to go to such a high temperature to make it and you use less limestone in the mix. This then requires less energy and CO2," Rathbone stated.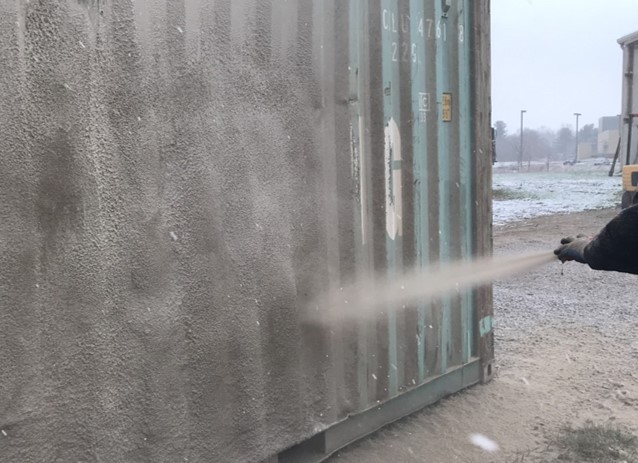 While the CSA cement is more sustainable, Rathbone explains that this is not the main reason the military saw interest in the product. "People like sustainability but they won't pay for it," Rathbone said. "CSA cement is very useful, but people don't use it because it's sustainable, they use it because it does what they want…It hardens very quickly, it's strong, and it doesn't tend to expand or contract too badly when it's used correctly. It's low CO2 and low energy but that's not why people use them. Its rapid hardening is what people want. They use it because they fill a need." Rathbone stated that the military, in particular, has an interest in this because of its rapid performance. "The reason they really like it is for its performance and that's what people will pay for." UK CAER's partnership with the military does not end with CSA cement, however. This project will enable newly conceived research to find applications in enhancing whatever application the military requires. Jewell stated, "Additionally, the ERDC and the University of Kentucky are developing an educational partnership with the idea of training students in the UK CAER labs on projects of interest to the military, providing those students with a potential summer internship in the ERDC labs, and ultimately provide the well-trained students an opportunity for employment in the ERDC labs."
That educational partnership is already in the works. Ben Mercer, a graduate student at CAER, gave some insight into his experience. He states, "For my Masters' research in Civil Engineering, I have been working with the Cementitious Materials Group at CAER on a project sponsored by the ERDC. Overall, I have enjoyed my time working with the Cementitious Materials Group at CAER more than I could have imagined. It is very cool knowing that I got to work on a project that will make a real difference for our military, and one that will keep our service members safe through many of the situations that they may face."
Whether it is innovative research or new educational opportunities, UK CAER is proud to partner with the U.S. Army and looks forward to future endeavors. Collaboration with industry, business, academia, and even the military is vital for UK CAER's mission of maximizing Kentucky's energy resources.