ABOUT CAER 101
Bringing real science into
Kentucky classrooms.
Scientists at the University of Kentucky are making an investment in the future of energy research by going back to school — elementary school.
A partnership between the UK Center for Applied Energy Research (CAER) and several Lexington elementary schools aims to kick-start interest in scientific learning at a young age, by putting working scientists into classrooms to lead fourth-graders in hands-on demonstrations and experiments.
The "CAER 101" education program, which began with Russell Cave Elementary School 16 years ago, has since expanded to include Liberty, Cardinal Valley, Cassidy, and Yates Elementary Schools. CAER scientists presented the same, one-hour lesson to each of the three schools. Their goal was to complement and reinforce "disciplinary core ideas," part of the new science standards.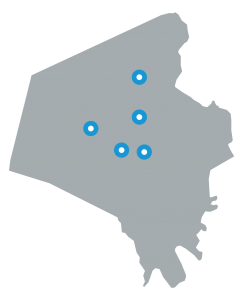 Whenever you can take real engineers and scientists and bring them into a classroom and let children know that real people do these kind of things, I think it makes science more real to them.
JACK GROPPO
PRINCIPAL RESEARCH ENGINEER
BUILDING STUDENT UNDERSTANDING
Fostering interactive STEM learning
through hands-on activities.
Biofuels
CAER-sponsored graduate students teach elementary school children about the production and the environmental impact of various types of fuel sources through a fun, interactive board game.
Electricity
Using a hand crank attached to a small hobby generator, UK CAER scientists and engineers are able to demonstrate how electricity is produced, powering lights, fans, and buzzers.
Energy Transfer
Using a giant Newton's Cradle model, UK CAER scientists demonstrate how collisions transfer energy.
BROADER IMPACTS
How does CAER 101 impact
scientists, teachers, and students?
A number of years, I've had kids draw what they think a scientist looks like. And you'll see a frizzy-haired white man in a lab coat. Today we had people of all colors. We had men and women, and people speaking with different accents. That's really neat for the students, because our kids are very diverse here, so they can see that scientists could look like them.

Science Teacher at Yates Elementary

I would get pumped up every time, because you could tell the kids were interested. I am sure that's what teachers really enjoy, when they see they're getting through to the kids or the kids are interested in what you're talking about.

Research Engineer Senior at UK CAER

I know when I was a senior in high school I was trying to decide what I wanted to be when I grew up. If I had had more opportunities like this it might have been an easier decision.

Science Teacher at Cassidy Elementary