A new, hands-on STEM education program will be racing its way into fifth-grade classrooms across Kentucky in 2020.
The University of Kentucky Center for Applied Energy Research (UK CAER), in partnership with GreenpowerUSA and the Kentucky Energy and Environment Cabinet (EEC) announce a new program to advance STEM (science, technology, engineering, and math) in Kentucky's schools. The program, STEM Education through Electric Vehicles, offers students a creative opportunity to design, construct, and competitively race a one-person electric vehicle.  The Kentucky Office of Energy Policy awarded a $51,344 State Energy Program grant to support the project.
"Our methods to educate the next generation must continue to evolve," said Rebecca Goodman, Secretary, Kentucky Energy and Environment Cabinet. "The STEM EV program is an example of how partnerships, innovation, and technology create a new opportunity to prepare our students for tomorrow's evolving, technological workforce. I am excited to watch Kentucky's students build on concepts from their science curriculum and apply that knowledge to a real-life, physical project."
UK CAER will roll out the program later this spring to fifth-grade students across the state with implementation beginning in early fall 2020.  Participating schools will receive program training at UK CAER in Lexington on the GreenpowerUSA program kit, which includes curriculum materials, the vehicle base, and associated parts. Students will develop their vehicles throughout the 2020-21 academic year and compete in a race in spring 2021.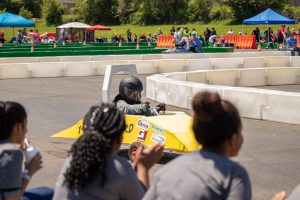 "Technology has radically changed our lives over the past decade," said Shiela Medina, Assistant Director for Policy and Engagement at the UK CAER. "It has changed how we communicate, control our home environment, and even our vehicles are becoming more intelligent and more are fueled by alternative energy sources.  We are excited to introduce this new program to Kentucky's students and most important, to guide their exploration of science and engineering, and to have some fun along the way."
"GreenpowerUSA is excited to partner with the University of Kentucky to engage the next generation of energy innovators," said Drew Sparks, Greenpower's CEO. "In our unique design, build, and race program, Greenpower inspires students through the thrill of competition and power of cooperative learning to reimagine our future and prepare them to enter college and careers in engineering, manufacturing, and energy science. We are thrilled at the opportunity to work hand in hand with leaders in Kentucky's energy innovation to bring this dynamic program to the great Bluegrass State."
GreenpowerUSA is a non-profit organization serving schools across the United States to demonstrate the importance of engineering and associated STEM subjects.
For more information about the Electric Vehicle STEM Project, contact Shiela Medina, University of Kentucky Center for Applied Energy Research, Shiela.Medina@uky.edu.